Merlo UK has strengthened its GREEN NETWORK of dedicated Merlo construction equipment dealers by partnering with well-respected construction equipment dealer BTE Plant Sales Limited.
"As part of our ongoing strategy to establish a dedicated Merlo construction network UK wide we are pleased to welcome BTE Plant Sales to our dealer network" comments Owen Buttle, National Sales Manager of Merlo UK Limited. "BTE's strategically located depots in Leicester, Leeds & Leyland offer excellent access to the motorway network, ensuring first class support for existing users and potential future purchasers of Merlo construction products".
As the largest independent construction equipment supplier in the UK, BTE pride themselves on an unrivalled level of customer service. Calling on 30 plus years of experience and specialist knowhow allows them to ensure they deliver the correct solution for their customer. The local support provided by BTE is further enhanced by the support of a nationwide team of field based technical & product support staff from Merlo UK.
"BTE are delighted to announce the addition of Merlo to our portfolio of world class leading manufacturers. We look forward to developing the Merlo range further within our territory and working with the Merlo team" Commercial Director Rebecca Bryson explained.
Operating from their depots in Leicester, Leeds & Leyland BTE are well placed to meet your Merlo construction equipment requirements. Pay them a visit today to discover what BTE can offer from the innovative Merlo telescopic handler range plus the CINGO tracked carriers & dumpers. You can also find BTE online here: https://bteplantsales.com/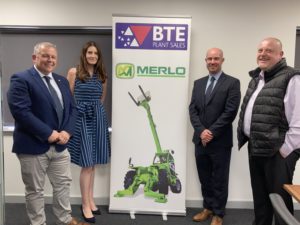 Shaun Groom, MUK General Manager (Left), Rebecca Bryson, BTE Plant Sales Commercial Director (Centre Left), Owen Buttle, MUK National Sales Manager (Centre Right), Dave Hawley, BTE Plant Sales Managing Director (Right)