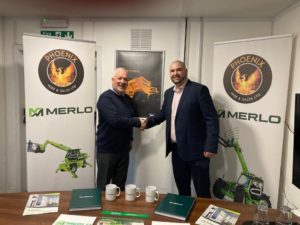 Merlo UK are pleased to announce the appointment of Tegfan Garage and Phoenix Hire & Sales to the Merlo Construction dealer network in South Wales.
"These new appointments have come about following a reorganisation of Merlo representation in South Wales" says Owen Buttle, National Sales Manager of Merlo UK. "These appointments sees our longstanding relationship with Mason Bros come to an end. I would like to acknowledge the efforts & achievements of Mason Bros during the time we have worked together" concludes Owen.
Effective immediately the Merlo Construction range will be represented in South West Wales by Tegfan Garage. Located at Pencader, Carmarthenshire the team at Tegfan are ideally placed to service the South West Wales area. The business owned and operated up by John Dunn has established an excellent reputation for their high level of aftersales service.
In South East Wales the Merlo construction franchise has been awarded to Phoenix Hire & Sales of Cwmbran, Monmouthshire. Founded some 14 years ago Phoenix Hire & Sales have quickly established themselves as a leading plant hire and sales dealer in South East Wales. Jason Derraven oversees a comprehensive network of six depots that will offer unrivalled support for existing and new Merlo customers in the area.
 "It is fantastic to be able to welcome two such highly regarded dealers to the Merlo network" comments Glen Pritchard, Construction Key Account Manager at Merlo UK. "I know both dealers are eager to hit the ground running and ready to discuss the benefits of the Merlo construction range with customers in South Wales".
You can find out more about Tegfan Garage here.
You can find out more about Phoenix Hire & Sales here.