Related
Merlo 30.9-G Overview
The construction spec 30.9-G is part of the Medium Capacity range.
MODEL FEATURES
This model is well known for compact dimension and impressive performance, giving a load placement height of 8.6 meters and 3 tonnes as maximum capacity.
Hydrostatic transmission, which makes the work phases simpler and more precise. Moreover, the dry disc brakes limit the absorption of energy, thereby reducing the machine's fuel consumption.
The 55.4kW/75.1HP Kohler engine combines with the 40km/h hydrostatic transmission to provide power on demand for all site conditions.
The hydraulic gear pump provides optimal simultaneous control of all movements.
The new cab, of generous dimension, is mounted on Silent Block, winch drastically reduce vibrations, guaranteeing maximum comfort and maximum visibility for the operator.
This model comes with standard Electrohydraulic Joystick, Inching Control, Roof Viper, Reversible Fan, Rear Diff Lock, Automatic Parking Brake or the Tac-lock, system for hydraulic clamping of the attachments which further improves operating comfort.
Engine: Kohler 2.5 Stage V 55.4kW /75.1HP
Transmission: Hydrostatic
Maximum speed: 40km/h
Hydraulic system: Gear 98L /min 210 bar
Hydraulic valve block: open centre
Overload system: Auto Block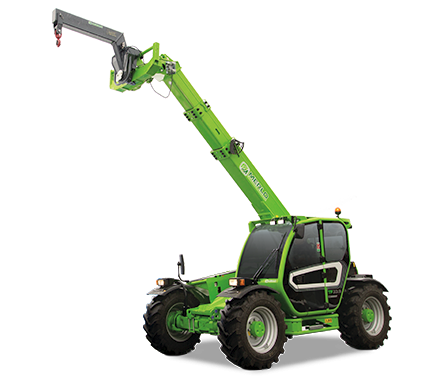 Lift Capacity 3 tonnes
Lift height 8.6 meters

Electrohydraulic joystick
Hydrostatic transmission

Gear hydraulic pump
Higher performance and lower consumption
Gallery