Related
Merlo ROTO 70.28 S-PLUS Overview
The telescopic handlers of the Roto range allow 360 degree operation thanks to the rotating turret, which offers a greater range of action compared to a fixed telescopic handler. This S PLUS models represents the top of the range, a true concentration of technology and performance that's destined to remain a leader in world markets. This is also thanks to the prestigious awards already won by the previous Roto ranges.
MODEL FEATURES
Continuous 360° rotation;
ROTO 70.28 S-PLUS can lift 7000kg, for a maximum lift of 28m.
The ROTO S-PLUS models with 125kW/170HP engine, are combined with the Eco Power Drive (EPD) electronic management that automatically controls and adjusts the engine revolutions based on operating conditions. This technology achieves a reduction in fuel consumption of up to 18%.
CVTronic transmission is standard feature across Roto Advance range: smooth and progressive acceleration 0-40 km/h without interruptions for a gear change and reduction in consumption, providing Merlo HM with even greater transmission than before.
Multi-position stabilisers with automatic self-levelling and self-stabilisation;
Tilting cab: the exclusive Merlo cab ensures greater levels of comfort, ergonomics and safety. From the driver's seat the operator can activate the cab's tilting via the dedicated button. The longitudinal inclination reaches 20°, allowing you to monitor the movements of the load when working at a height;
Intelligent hydropneumatic suspensions on axles, giving great frame levelling control (12% lateral and 4% front inclination) and the possibility to the machine when is on wheels of varying the height according to the soil;
Exclusive MCDC (Merlo Dynamic Load Control): the system allows you to collect different parameters submitted by the machine, analyse them in real time and create a load diagram that allows the operator, through the new LCD display, to understand the perimeter within he/she can operate in maximum safety;
Double hydraulic Load Sensing and Flow Sharing pumps which provide greater system efficiency, simultaneous movements, more precision movements, lower consumption and less overheating of components and oil.
S-MODELs come as standard with Grammer Warmed Seat, Roof Wiper, Sunshade, LED light on cab, Lights on boom, Towing Hook and Prearrangement for platform.
Engine: FPT 4.5 125Kw/170 Hp Stage V
Transmission: Hydrostatic
Hydraulic system: 2 x Load Sensing + Load Sharing, 158+100 l/m – 260 Bar
Electronic Joystick
Cab: Premium
Multiposition stabilisers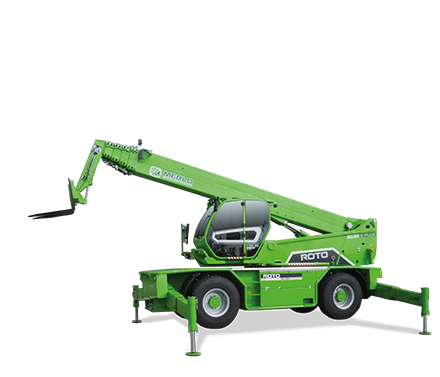 Lift capacity 7 tonnes
Lift height 28 meters
Tilting cab

Automatic self-levelling on stabilisers & self-stabilisation
CVTronic
A new concept of movement
Gallery