Related
Merlo P72.10 PLUS Overview
The Panoramic 72.10PLUS has been designed to work in the most demanding conditions, where performance in terms of lifting capacity and engine power make all the difference. Compact dimensions, increased manoeuvrability and versatility of use: the new construction concept allows you to customise the models according to operational needs, consequently offering the widest construction range with tailor-made solutions for the customer.
MODEL FEATURES
This Panoramic has a maximum capacity of 7200kg for a lifting height of 9.6 meters.
The 72.10 PLUS with 101 HP Tier IV engine, is combined with the Eco Power Drive (EPD) electronic management that reduces the engine rpm where high power is not required.
PLUS versions are equipped as standard with full MCDC (Merlo Dynamic Load Control) coupled with a large 10.1" colour display and attachment recognition, showing machine's geometric configuration, boom extension, angle and handled load.
The Tilt Correction System, integrated into the chassis as standard, can correct the lateral inclination by 8% on each side, reaching 24% on sloping terrain operating in conditions of maximum safety.
The exclusive Boom Side Shift allows the load to be positioned without further manoeuvring, saving time and improving machine's productivity: the system allows for a boom side-shift up to 500 mm.
The standard cab gives easy access, astounding space with great visibility: generous in dimensions, the cab is mounted on Silent Block, which drastically reduce vibrations, guaranteeing maximum comfort and visibility.
The 72.10 Plus comes with standard Towing Hook, Roof Wiper, Lights on cab.
Engine: Perkins 3.6 80Kw/115Hp Tier V
Transmission: Hydrostatic
Hydraulic system: Load Sensing 104 l/m 250 Bar
Electronic Joystick
CDC: Full Dynamic Load Control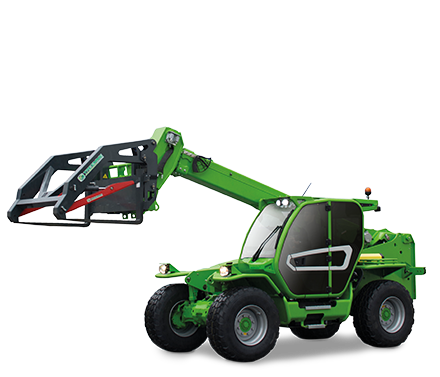 Lift Capacity 7.2 tonnes
Lift Height 9.6 metres

Frame Levelling + Boom Side Shift

Eco Power Drive
Hydrostatic Transmission + Merlo Dynamic Load Control
High specification for high performance
Gallery