Related
Merlo M8.3 PLUS Overview
The multifunctional Cingo is a practical solution for work on different scenarios, from hillsides of mountainous area to hard work in tight spaces. The multifunction Cingo offers maximum traction capacity, maximum ergonomics, easy handling and simplified maintenance.
Thanks to its compact size, the Cingo M8.3 PLUS is the ideal multi-functional machine for working in particularly narrow spaces. The 17hp diesel engine and the high attachment angle of the tracks allow the machine to overcome any obstacle, thereby ensuring maximum versatility in all work situation.
The hydrostatic transmission with variable hydraulic pumps and gear motors, coupled with the power of the engine, make this machine a particularly manageable instrument capable of operating in all work conditions. The transmission of torque is directly transmitted to the tracks: this ensures maximum performance and drive transmission capacity.
The integrated parking brake provides excellent dynamic braking, requiring less space for stopping and therefore high safety for the operator and greater precision in carrying out the work: the new compact and reliable solution provides a progressive and safe meshing. Automatically activated when the operator releases the driving levers or when the diesel engine is switched off.
The auxiliary 8-way hydraulic system is fed by a pump at 27 litres/min, ensuring excellent management of hydraulic operation of any attachment. Therefore the RH case allows easy inspection of the engine bay for routine maintenance.
Strong rubber tracks suitable for all terrains with low specific pressure. Four oscillating rollers increase the driving comfort and transport safety, dampening the obstacles the machines is facing. Therefore track guides ensure a noise reduction.
The structure dumpers and platform's shock-absorbing system reduce the vibrations transmitted to the operator, while the large support surface further enhances the driving comfort.
Quick coupling system (Merlo patent)
The attachments for the Multifunctional Cingo system are the winning idea that has freshly defined the concept of multi-purpose for tracked dumpers. There are numerous work tools with new technology available for all models, which increase its potential for use, highlight its versatility and optimise the use in all fields: from construction to agriculture, from recycling to landscape gardening.
It takes just few seconds to connect the desired attachment: a quick and effective respond to the increasingly new demands for lifting, excavating, transporting, loading and unloading with precise handling.
Capacity 800 kg
Machine weight 510 kg
Length 1620 mm
Width 800 mm
Diesel Engine Kubota 17 hp
Hydrostatic transmission with gear motor and variable hydraulic pumps
Gear service pump 8cc (27 l/m – 180 bar), double pump as opt
Four hydraulic connectors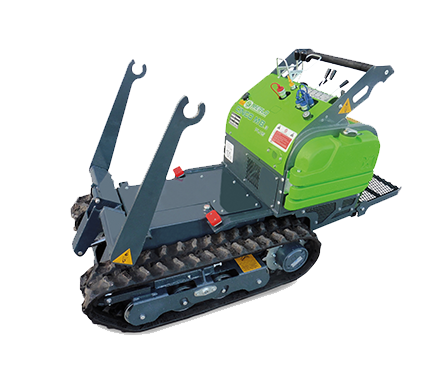 Maximum capacity 800kg
Hydrostatic transmission

Merlo quick coupling system (patent)

Low gravity centre

Width 800mm
Merlo technology applied to the Cingo range
Gallery