Merlo UK is delighted to inform you about the introduction of the new TF65.9 telehandler. This new model will complement the high capacity range offered into the Agricultural and Waste re-handling market sectors.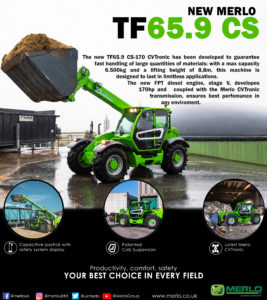 The new Turbofarmer, developed to guarantee fast handling of large quantities of material, is used in the world of biogas, cereal farms, industry, landfill and recycling, sawmills, etc.  The main features of the new TF65.9 are:
Maximum capacity of 6,500 kg;
Maximum lifting height of 8.8 m;
FPT turbo diesel, from 125 kW to 170 HP, Stage V;
Hydrostatic transmission with EPD electronic control, maximum speed 40 km/h;
Load Sensing hydraulic system – HF (High Flow) with 160 ml variable displacement oversized pump;
Frame levelling control;
Cab suspension;
Cab, modular type, FOPS (level II) and ROPS with PREMIUM configuration;
ASCS safety system with display integrated into the cab;
Boom suspension;
Electronic joystick control with capacitive sensor;
1,010 mm wide cab;
Tractor Approval, Pick Up Hitch, Hydraulic trailer;
LED lights on cab and roof wiper.
Safety, Power, Comfort, Efficiency. The all new TF65.9, designed to last.
Pay your local dealer a visit and discover more!
https://merlo.co.uk/range/tf65-9-tcs-170-hf/