Merlo were thrilled to welcome their UK dealers to the first in-person dealer
conference since the beginning of the Covid-19 pandemic. During the event held in
Stratford upon Avon, Merlo recognised some of their key dealer partners in an
awards ceremony presented by guest speaker, Olympic Silver Medallist Roger Black
MBE.
Congratulations to South West Handing for winning Merlo UK's Parts Dealer of
the Year 2021.
South West Handling have shown themselves as a key partner Dealer for Merlo
UK.
Their engagement and communication with the Parts team has been
exemplary, and has facilitated their continued usage of Merlo UK's newest, cutting
edge tools from their launch.
Congratulations to Shellplant for winning Merlo UK's Construction Dealer of the
Year 2021.
Shellplant have been a tremendously valuable and diligent Dealer for Merlo over
the last year. Since joining the Dealer network in September 2020. This dealer
partner, established in the 1970s, have consistently put up record sales for Merlo in
the construction sector. They have demonstrated exemplary commitment to the
Merlo brand since they joined the Merlo network.
Congratulations to C.T. Hayton for winning Merlo UK's Service Dealer of the Year
2021.
C.T. Hayton are a longstanding and dedicated partner Dealer of Merlo UK. Their
excellence is, in no small part, due to diligent serviceman Richard Birkbeck, who
John Hayton dedicated the award to for his years of "hard work and dedication".
Stuart Henry, Area Manager Sales at Merlo UK said of C.T. Hayton, "They have
gone over and above our expectations to really look after the Merlo product."
Congratulations to C.J. Cox for winning Merlo UK's Agriculture Sales Dealer of the
Year 2021.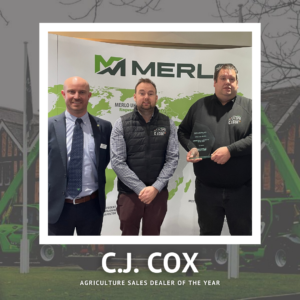 C.J. Cox are a new dealer to the Merlo UK family. Joining in January 2021, C.J.
Cox, joined at what would have been a difficult time for any company, but
exceeded expectations and fully involved themselves with the Merlo UK brand.
Owen Buttle, National UK Sales Manager at Merlo UK said, "They've embraced the
product and really hit the ground running. In their first year… they've been just
fantastic."
Congratulations to Pallisers for winning Merlo UK's Overall Dealer of the Year
2021.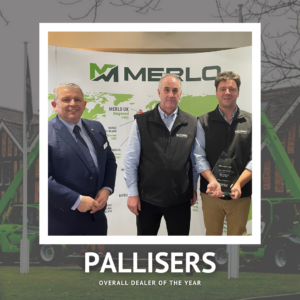 Pallisers have demonstrated a commitment to the Merlo brand through their
representation and sales across the range of products Merlo offers. They have
provided a key role in the marketing of their own brand, and Merlo's, and have
excelled in customer support and service.
Located in Stratford-on-Avon, Warwickshire, Merlo UK's 2021 Dealer Conference
was a very successful event, with attendees remarking that the event was
informative, and made them feel excited for the years ahead as part of the Merlo
family.