Merlo UK are pleased to announce a new dealer, and an expansion of territory & responsibility for an existing dealer to strengthen the Merlo dealer network in Scotland. This follows a decision by Merlo UK to end its relationship with HRN.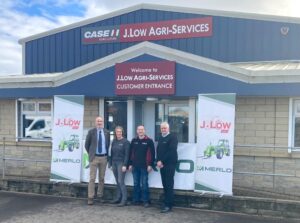 New to the Merlo dealer network are Fife based J Low Agri Services Ltd. Established by Jimmy & Karen Low in 2002 as a tractor hire business, J Low Agri Services quickly expanded into an agricultural engineering service business in the Fife area following Jimmy's decision to become self-employed. Now based off Junction 4 of the M90 at Kelty, J Low Agri Services looks to continue their trend of consistent growth as a Merlo dealer.
Owen Buttle, National Sales Manager of Merlo UK, commented, "Fife is a key agricultural area of Scotland and we are extremely happy to have J Low Agri joining the Merlo network. Their location and facilities are well placed to serve farmers and contractors across the region with Merlo products & services".
Jimmy Low, founder and owner of J Low Agri Services, noted his excitement to take on the Merlo franchise, "This is a great opportunity for us to grow our product offering to new and existing customers, we look forward working with Merlo and further developing our business."
Call into J Low Agri in Kelty to see first-hand how the Merlo product range can benefit your farming business.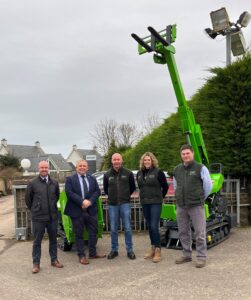 Expanding to become a combined Merlo dealer with the upcoming launch of RAS Plant Sales, Ross Agri Services Ltd will grow the Merlo offering they have provided to their customers since 2020.
Ross Agri Services Ltd (RAS), established by Bill and Ethel Ross in 1972 as a farm machinery hire business, RAS quickly grew into a major player amongst Scottish dealers when they focussed on machinery sales over hire in 1976.
Bill and Ethel's son Martin joined the business in 2000 to take responsibility for sales, administration, maintenance and the workshops. Twenty-three years later, Martin has established himself as one of the most versatile dealer principals in Scotland.
The newly formed division of RAS Plant Sales will operate alongside Ross Agri Services from their existing St Cyrus, Turriff depots plus the newly acquired Muir of Ord location, enabling RAS to carry Merlo construction products such as the ROTO and Panoramic ranges.
Shaun Groom, General Manager of Merlo UK, remarked about his experience with the RAS team, "Having known Martin, Bill & Ethel for many years, I am confident that the Merlo brand will only continue to grow further with the high level of customer support that RAS are renowned for".
Martin Ross, Managing Director of Ross Agri Services Ltd, stated, "We are delighted to be expanding our Merlo trading area, not only representing the Merlo agricultural range, but now the Merlo construction product offering too. Having seen first hand the investments being made by Merlo Group it is a strong sign of their commitment for the long term".
The teams at the St Cyrus, Turriff & Muir of Ord RAS depots are ready to demonstrate how the Merlo range can benefit your agricultural or construction business.
Find out more about J Low Agri Services here.
Find out more about Ross Agri Services/RAS Plant Sales here.